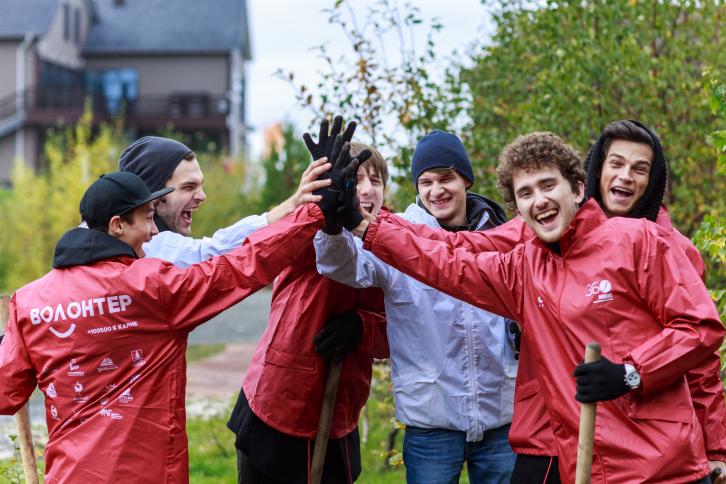 Contributing towards developing local communities
We are dedicated to the development of local communities and aspire to make a positive contribution to the well-being and social life of all the regions where we operate. We invest in community projects that align with local needs and our business activities. Goals and commitments: • To ensure that all communities in operating regions benefit from our presence • To establish close cooperation with local communities, government agencies, and non-profit organisations.
We have prioritized the goals that relate to urban development, healthy leaving, education and environment while engaging our employees and locals. We believe our efforts build a positive social climate and relationships based on respect, understanding and trust
Key figures
allocated for the implementation of projects and activities in the territory of Russia under the programme "Sustainable development of the areas of responsibility"

USD 27 mn

Amount of social investments

USD 55 mn

Spent on the construction of ski depots in Divnogorsk and Nizhneudinsk

USD 692,000

The Clean Water category

The 360 project

won the BRICS International Prize
Key programmes
Environmental projects
Along with environmental programs in our operations and scientific research, En + Group supports a number of initiatives carried out by local NGOs and residents of the regions. Our environmental initiatives are aimed at preserving the nature of the regions of operations, the rivers of Siberia and the unique Lake Baikal for future generations.
Infrastructure and urban development
Development of public infrastructure is one of the key drivers of economic growth, and it requires significant investments to meet the ever-growing demand of the population. In all regions where the Company operates, we strive to create a space for the comprehensive development and self-realisation of every resident to achieve economic and human potential capable of ensuring further development of the territories.
Education
En+ Group dedicates significant effort to the development of educational programs, particularly those aimed at training future engineers and technicians matching the needs of our business, industry and local community development. We strive to arouse the interest of students in engineering professions, creating conditions for each child to have equal access to quality education.
Volunteering
Corporate volunteering is an important tool ensuring the Company remains engaged with employees and locals and establishes sustainable relations with both communities and the government. The Company's volunteering initiative brings together a wide variety of people, including production facility employees, schoolchildren, students, and representatives of social and educational institutions. To create the greatest impact, the Company has been developing programs and technologies allowing residents to more easily engage in volunteering activities.
Sports and healthy leaving
En+ Group supports programs to ensure healthy living and promote well-being for residents in the countries of operations. The other area of our focus is the improvement of the health care in vulnerable communities. We believe that healthy communities better perform all the functions of life and develop to their maximum potential.
Contacts
For investors IR Department
Related news
En+ FY 2022 financial results
EN+ GROUP IPJSC (the "Company", "En+" or the "Group") announces its financial and operational results for the year ended December 31, 2022 (FY 2022).